You are here:
Home
»
2015-2025 PLANS
»
4 - Showgaden
4 - Showgaden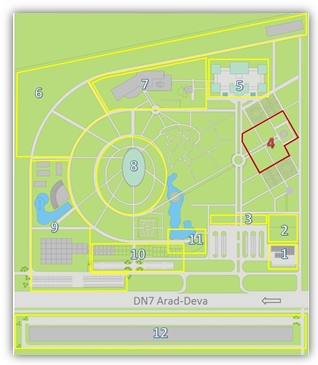 Location: central part of the Rosarium
Area: 5000 sqm

The main alleys constitutes a symmetry axis, adjacent areas being planted with conifers and green hedges, form of rays converging to a point at the end at of alleys.

We are planning a showgarden/showcase in which to test/observe the adaptability in our climatic zone, the aspect and needs in cultivation of herbaceous plants suitable for mass plantings. Annually will be invited here municipalities and companies active in the field of landscaping, producers and also the media.

Zona este adecvată şi pentru diverse evenimente private în aer liber. Investiţia va fi una sumară, constând dintr-un pavilion, o mică fântână, scaune, suporturi metalice pentru eventuale decoraţiuni.

The area is also suitable for private outdoor events. The investment will be one summary, consisting of a pavilion, a small fountain, chairs, metal supports for any decoration.