You are here:
Home
»
2015-2025 PLANS
»
11 - Restaurant
11 - Restaurant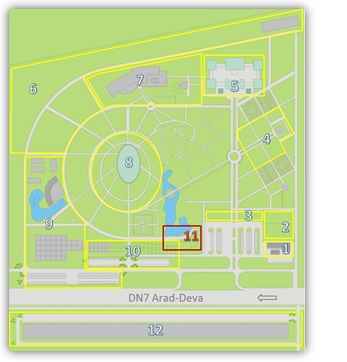 Location: near the lake
Area: 500 sqm

The lake area is one of the most beautiful of the entire park. The vegetation is already mature and its mode of arrangement creates a special oasis around the lake. Taking into account the circulation directions the garden, we decided in this place to open a restaurant with terraces in stairs, reaching up to the water. The restaurant style will be refined.

Project: Two perpendicular terraces, having a closed reunion point, on 2 levels, round section. The first level, surrounded on the outside by earth and decorative vegetation, will be for the kitchen and the supply-storage spaces. Thus the indirect activities (supply, the construction of waste, etc.) will be discrete, cars having access to this protected area.
The second level, the restaurant, will have in the center access to the lower level, masked by a circular area for the transfer of orders to the kitchen and the food to the waiters. The meals will be arranged around a central point. The enclosed space will continue outside with the two terraces placed at 90 degrees along the lake side, with a maximum length of 50ml and 30ml possible.